Our website is responsive – is yours?
1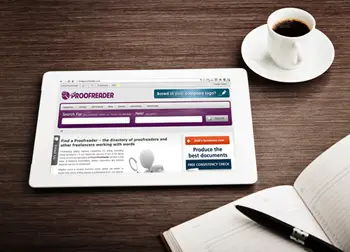 Visitors to Find a Proofreader may be pleased to hear that the site now employs a 'responsive' web design.  Responsive website design (or RWD) aims to provide an optimal viewing experience across all commonly used devices, such as desktop monitors, tablets and smartphones. Whatever mobile device you happen to view Find a Proofreader on, you should find that it fits the screen snugly, reducing the need to 'pinch and zoom' the touchscreen as you navigate the site.
This is great news for users coming to the site via mobile devices as it will obviously make the site more user-friendly – in turn, it should also be music to the ears of our advertisers. If visitors enjoy using the site, they're more likely to stick around, and if they stick around, they're more likely to find you.
If your own website isn't responsive yet, we recommend you make the leap soon. With more and more web users accessing the internet via their mobile devices it's important that you ensure that they don't leave your site as soon as they arrive. A way to monitor how successful your site is at retaining visitors is to keep an eye on your bounce rate on Google Analytics. In theory, the lower your bounce rate, the better, as it suggests that people are not just coming to your site, viewing a single page very briefly and then leaving (although there's actually more to bounce rates than that).
Making your site responsive can be quite difficult in some instances. If your site was designed in WordPress or similar, it may be a case of simply installing a plugin or updating/changing your WordPress theme; however, if your site was coded in HTML you'll probably have to pay a web designer to make extensive changes to the code (which is unlikely to be cheap).
One option would be to employ a company to take the copy from your existing site and design a new WordPress-based website that is modern and responsive. Full Media Ltd provide such a service – all sites are responsive, stylish and quick to navigate, and prices start from as little as £200. As well as making your company website future proof, another major advantage of having a WordPress website is that you will be able to log in and make changes to the website without having to learn any web design skills yourself!
Nick Jones is a proofreader, editor and copywriter. He is the owner of Full Proof, an editorial company based in Cheshire, UK, and Find a Proofreader, a business directory for freelancers working with words.

14/02/2013 | Nick Jones