New feature – dynamic customer review widgets for your website!
0
We are excited to announce that we now have a range of dynamic review widgets for advertisers to add to their website!
These widgets display the number of reviews you have received via Find a Proofreader and your average rating – and because they are dynamic, they update automatically every time you receive a new review! Here are three of the sizes you can pick from (there are six altogether):

To access your own range of personalised review widgets, just go to your listing and scroll to the bottom of the sidebar on the right-hand side of the website.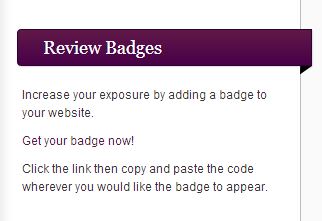 Click on the purple text that says 'Get your badge now!' and you will be taken to another page where you can select from six different widgets: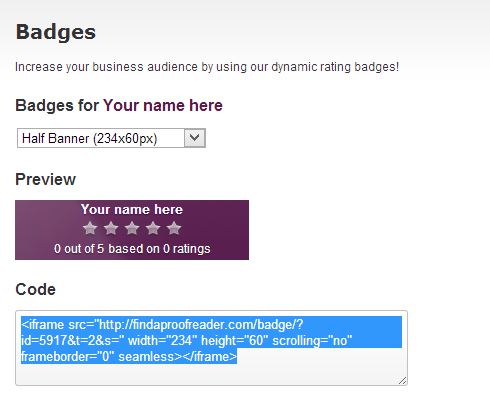 When you've decided on a widget that will best suit your website, just copy and paste the code into the relevant space in your website's html. You may need to ask your web designer to do this for you, if you have one – if not, please get in touch with us at Find a Proofreader and we will be happy to help you.

By displaying a dynamic review badge on your website, you will be able to proudly show off the quality of service you provide!

And for those of you who don't currently have any reviews on Find a Proofreader, don't forget that we also have a range of non-dynamic badges too. Click here to see them – and, again, please contact us if you need assistance adding one of these to your website.

05/09/2013 | Admin