Freelancer of the Month May 2014 – Valerie Skinner
0
For this month's Freelancer of the Month feature we spoke with Valerie Skinner, a virtual assistant, writer, proofreader and audio transcriber based in France.
Hi Valerie! Firstly, please can you tell us a bit about the nature of your business?
Almost anything to do with English words! Currently my main clients are an international legal transcription company and a UK-based technical publication, but over recent years projects have included writing website content, travel guides, real estate and product descriptions and proofreading novels prior to publishing.
Tell us about your journey to becoming a freelancer.
I was a City PA for almost 20 years before moving abroad. When my son arrived, I needed to generate a more steady income to support us so went back to my roots. I joined several agencies and received a small amount of online work but was then also approached by several students at the University of Malta to help with the presentation of dissertations. They still contact me today.
What do you enjoy most about running your own business?
It's the single mum thing. As I work from home, I'm here for the school bus, for sick days and school holidays. I still have to work but at least I am here if needed, and I don't need to ask permission to collect a poorly child from school.
What are the downsides to working for yourself, if any, and how do you overcome them?
The only solution to the pile of paperwork and accounting requirements of the French bureaucratic system is a very large jug of coffee and intense concentration every three months.
Also there is a common misconception that freelancers are unskilled labourers who should accept minimum wage.  When starting out I was faced with this constantly, but since establishing a small client base I earn enough to cover living expenses. It does involve long hours, 24/7 availability and an inability to spend much quality time with my little boy, but hopefully over time that will improve.
How do you go about promoting your business/finding clients?
To be honest, I don't promote it anymore. I receive requests from the University students through word of mouth and my other clients are ongoing so there is currently no need.
What is your most treasured work-related possession?
My English laptop. I live in dread that one day it will decide to go to Techno Heaven and I will have to relearn everything to be able to work on a French keyboard.
What do you enjoy doing when you're not working with words?
Tormenting my child by surgically removing him from the PlayStation so that he will walk the dogs with me. He refuses to believe that we do actually need to get out of the house sometimes.
Have you got any advice for aspiring freelancers?
Work out exactly what your strengths are and promote them. If you provide what you promise and you provide it well, with luck you will establish ongoing relationships. Unless you possess a unique skill that commands a high rate, be prepared to work long and hard to make ends meet. The absolute upside is that at least you can do it in the comfort of your own home.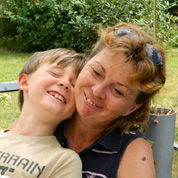 Valerie Skinner is a freelance proofreader, virtual assistant, writer and audio transcriber based in France. For more information on Valerie's services click here to view her Find a Proofreader listing.
30/05/2014 | Admin